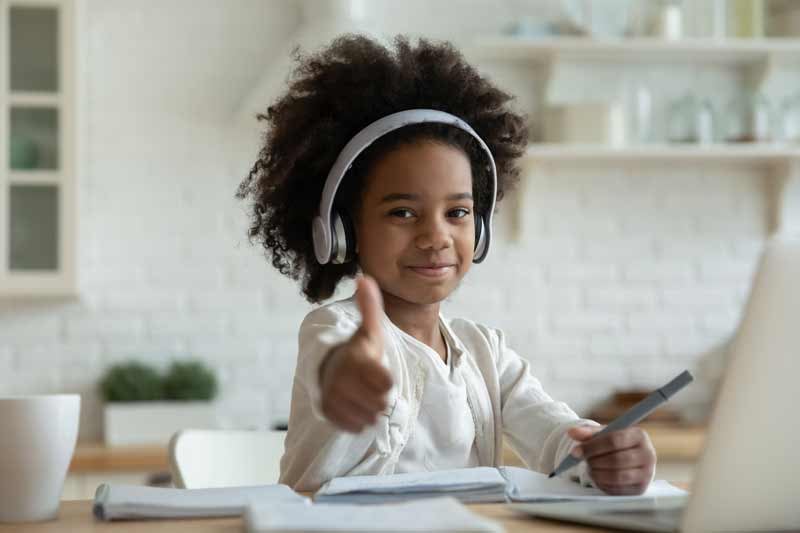 Getting STEM education as soon as possible is so important for early childhood education. That's why our Foundational Fluencies STEM kits can be used in Pre-K and Kindergarten. Our Foundational Fluencies Program focuses on helping young students develop important competencies that are prerequisite for a lifetime of STEM learning. While many students learn these fluencies at home, this program helps fill in critical gaps that may exist, especially for underserved and underrepresented students.
Although all children are natural designers, students need to learn foundational STEM fluencies in order to think like engineers and scientists. Gaining these basic fluencies helps them make sense of more advanced STEM learning opportunities and be successful in a technologically-driven world.
Of course, those aren't the only benefits of starting STEM education in the classroom. We've created this guide outlining some of the key ways STEM kits help kindergartners learn and grow. Read the full guide below!
1. Allows STEM Learning Through Play
Play is crucial for early child development, which is why introducing play with STEM skills is crucial in this time. In fact, through play, children experiment and try out ideas to learn all about the world, while developing fine motor skills and reaching learning outcomes. According to the American Academy of Pediatrics:
"Play allows children to use their creativity while developing their imagination, dexterity, and physical, cognitive, and emotional strength. Play is important to healthy brain development. It is through play that children at a very early age engage and interact in the world around them. Play allows children to create and explore a world they can master, conquering their fears while practicing adult roles, sometimes in conjunction with other children or adult caregivers. As they master their world, play helps children develop new competencies that lead to enhanced confidence and the resiliency they will need to face future challenges"
That's why we've built in the opportunity for open-ended problem solving in our programs. into Kid Spark Education programs.
Our curriculum follows a consistent pattern of convergent to divergent learning. In this model, students are able to absorb critical information as they participate in the convergent part of the lesson and then creatively apply what they have learned in a divergent challenge. Having this structured learning and then free play allows deeper understanding of the material.
2. Prompts Exploration and Collaboration
Using an assortment of engineering materials to solve problems, Kid Spark Education programs also give students the opportunity to explore new subject matter and collaborate. For each lesson, students work together to brainstorm ideas, develop prototypes, and carry out investigations on designs as they develop solutions to problems. The ability to collaborate and communicate is a skill that all students will use their entire lives.
While working in teams and learning about collaboration, students strengthen their ability to effectively communicate and problem-solve. To work within a team, students must express ideas with one another and consider differing viewpoints appropriately. By teaching students these skills and introducing them to technology in the process, students will absorb the material better.
3. Facilitates Much Needed Mentorship
The right mentorship makes all the difference. That's why creating the opportunity for STEM mentorship is central to Kid Spark Education programming. Teachers who serve as STEM mentors ensure that students stay at their learning edge, the zone where skills and fluency may be just shy of what's required to accomplish the task at hand. A STEM mentor's encouragement can mean the difference between a child giving up on STEM and excelling in STEM. That's why mentors need to have the tools they need, like professional development and comprehensive curriculum guides. As Stohlmann, Moore, and Roehrig find in their study on integrated STEM education in the Journal of Pre-College Engineering Education Research,
"The preparation and support of teachers of integrated STEM education is essential for achieving these goals. Future research can focus on the development of curricula materials and instructional models for STEM integration, connections between teacher education programs for integration and teachers' subsequent classroom teaching practices, and also ways in which teachers view STEM integration"
At Kid Spark Education we provide that needed support with robust curriculum resources for teachers to use with their students. Our programs are aligned with Next Generation Science Standards (NGSS), International Society for Technology in Education Standards (ISTE), Computer Science Teachers Association Standards (CSTA), and Common Core (CC), so teachers can hit educational outcomes while preparing their students for the modern world. On the curriculum page on our website, teachers can take a look at the curriculum and how to effectively use our kits to inspire a lifelong love of STEM.
4. Shows How STEM Works in the Real World
When learning about STEM concepts, it can be easy for students to feel disconnected from the material if they don't know how it operates in the real world. When programs like Kid Spark Education are interdisciplinary, students can truly see how each discipline is connected and how it applies to the real world. This not only makes STEM concepts more accessible, but aids in child development. As Sarah York, Rea Lavi, Yehudit Judy Dori, and MaryKay Orgill explain in the Journal of Chemical Education, the systems thinking children do in STEM education is,
"a holistic approach for examining complex problems and systems that focuses on the interactions among system components and the patterns that emerge from those interactions. Systems thinking can help students develop higher-order thinking skills in order to understand and address complex, interdisciplinary, real-world problems."
In our elementary school program in particular, Kid Spark Education helps young learners gain confidence in their ability to author with technology to solve real-world problems and design new solutions. Through each problem solving exercise, students are able to see how STEM makes up the world they live in and how these problem solving skills can create real change. Whether students end up in STEM careers or not, creating these opportunities for problem solving will serve students for years to come.
5. Builds Skills That Go Beyond STEM
No matter what academic or professional journey your kindergartners go on in the future, learning STEM will serve them for years to come. According to the NSTA, STEM education teaches students a variety of skills including:
Critical and Analytic Thinking
Technology Literacy
Teamwork
Collaboration
Problem solving
Creative Thinking
Making Connections
Especially in an increasingly modern world, learning this sense of collaboration and authoring technology will only give your students an even brighter future.
Kid Spark learners are more likely to choose professional careers, regardless of gender, race, or economic background. By getting this education early on, they will gain the skills and confidence to design new solutions for real-world problems in any career they choose.
Want to Add STEM Kits to Your Kindergarten Classroom?
Of course, this is just a quick overview of the value that STEM kits can bring to your kindergarten classroom. If you'd like to add Kid Spark Education, we'd be happy to talk to you about this further.
We help elementary and middle schools disrupt the pattern of educational inequity by providing STEM education early and consistently to all their students. By giving students of all backgrounds and abilities an equal chance to learn and love STEM, we are nurturing a next generation of successful professionals, bold thinkers, and passionate leaders. With programs from Pre-K to elementary school, to middle school, we can provide progressive STEM education to grow a love of learning and fluency in STEM concepts. Learn all about our Elementary and Middle School STEM programming here. If you would like to bring Kid Spark Education to your classroom, purchase programs here.