Second grade is an exciting time for students learning STEM, as they begin to build on concepts established in previous years to have a more comprehensive view of the subjects. The summer breaks before and after second grade are therefore crucial times for students to continue to engage with STEM through hands-on activities, exploration, reading, and more.
The components of STEM—science, technology, engineering, and mathematics—are all around us everyday. The STEM activities we selected embrace that idea, helping your second grader see key concepts in action and igniting their imagination.
Let's explore a few fun STEM activities for second graders.
5 Summer STEM Challenges for Second Grade Students
1. Track your shadow.
The summer sun provides the perfect environment to complete the human sundial experiment. All you need for this second grade STEM activity is a sunny day, a watch, a tape measure, and some chalk!
To get started, find a wide open space with concrete or asphalt, such as a playground, basketball court, or parking lot. You'll want to observe the area and make sure no other shadows, like those from trees or buildings, overlap on the space where you will be conducting the experiment.
Mark the spot where your student will stand with an "X." If more than one person is participating in the activity, make sure their spots are at least twenty feet apart.
Throughout the day, have the student stand on their spot while you trace the outline of where their shadow falls on the ground. Take turns so the student can also trace your shadow. By each shadow, write the time. Repeat this five or six times at different times, potentially using different chalk colors to differentiate the outlines.
Ask the student what they think the different positions and shapes of the shadows mean. This activity is a great way to start a discussion about the seasons and how the sun moves through the sky.
2. Find out what floats.
A second grade student is still learning the science of what makes up different things, and this STEM activity can help them back comprehend that. You'll find out what sinks and what floats in water!
First, gather a collection of small items. You can pick up items around the house, like marbles, small toys, paper clips, pencils, and pieces of cardboard. Next, hop outside and see what small objects you can find in nature to add to your experiment, like pebbles, leaves, sticks, and seeds.
To conduct the challenge, you'll need a medium-sized container to put the water in. A disposable aluminum pan, large bowl, or food storage container will do. Add enough water to the container that any of your objects would be able to fully submerge (if they sink!).
List out all of the objects you're going to test and have your second grader predict whether each item will sink or float. Then, have them place each object in the water and record whether it sinks or floats. Help them record their observations and what they think may cause things to float.
3. Build a reading list.
We've said it before—a library card is a powerful tool in the hands of a student. Make the most of this community resource by ensuring your student has an active library card and a thorough understanding of all the services and events their local library offers.
Plan to visit the library at least once or twice a month, and encourage your second grader to seek out STEM-focused books. Early elementary is a critical time to develop an appreciation for the STEM subjects of science and math, so this encouragement of learning more about STEM on their own volition can create that educational foundation.
A few STEM-focused books your second grade student may enjoy include:
Count On Me by Miguel Tanco
What the Weather? by Fraser Ralston and Judith Ralston
Rosie Revere, Engineer by Andrea Beaty
The Great Harvest: An Engineering Story by Nathan Russert
Rube Goldberg's Simple Normal Humdrum School Day By Jennifer George
Libraries also have extensive nonfiction sections that include books that are appropriate for the second grade reading level. Check out your local library's children section for nonfiction science books.
4. Get artistic with fizzing sidewalk chalk paint.
This summer STEM idea is great for students who have a flair for the artistic! You'll go beyond standard sidewalk chalk to develop a concoction that reacts to a spray of vinegar with fizzing bubbles.
.For this STEM activity, you'll need the following items:
Squeeze bottle or spray bottle
Mixing bowl
Muffin tin
2 cups baking soda
1 cup cornstarch
Food coloring
Vinegar
Warm water
In your mixing bowl, have your student mix together the baking soda and cornstarch. Once that's thoroughly mixed, add warm water and continue to stir together. Add enough water to make the mixture the consistency of finger paint.
Next, divide out the mixture evenly in the muffin tins, with as many divisions as colors you plan to make. Add food coloring to each segment and mix together. Separately, place vinegar in the squeeze bottle or spray bottle.
Now you're ready to head outside! Your second grader can use the paint in the muffin tins to paint whatever they have in their imagination, but you could prompt them to create science-themed art like plants and animals. Once their art is complete, help them use the spray bottle or squeeze bottle to apply the mixture to the art and enjoy the cool fizzing reaction!
Discuss with your student how different substances can affect each other. Once completed, clean up easily by rinsing the sidewalk with water.
5. Celebrate World Ocean Day on June 8.
Mark your calendar for World Ocean Day, which happens every year on June 8! According to the World Ocean Day Youth Advisory Council, "World Ocean Day supports collaborative conservation, working with its global network of youth and organizational leaders in over 50 countries, and providing free and customizable promotional and actionable resources."
You can utilize the day to discuss the science of the oceans with your second grader. Discover what sparks their interest, whether that's coral reefs and oceanic mammals or the way the tides work. Then, explore that subject together.
World Ocean Day has a curated offering of free resources for students that you can download here. Get lesson plans, activity books, guide books, coloring pages, and more.
If you have access to a nearby aquarium, June 8 may be a great day to plan a visit! World Ocean Day also compiles a list of events around the world that you can explore.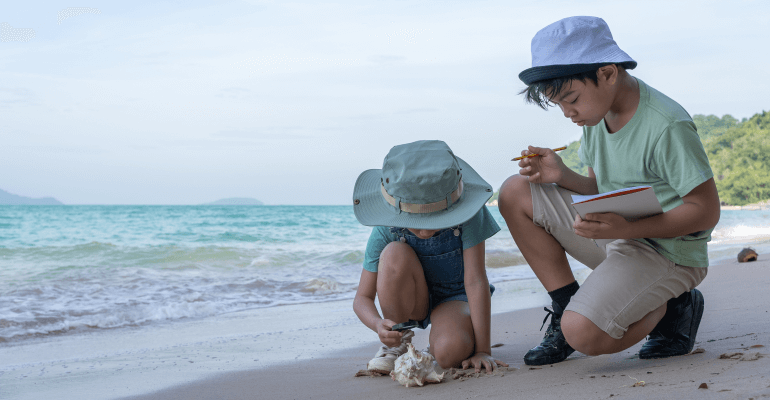 Benefits of STEM for Second Graders
Summer STEM activities like those we outlined above do a great job of making STEM an integral part of your student's way of thinking. At Kid Spark Education, our second grade STEM lessons are part of our second grouping of programs, focused on students in second grade through fifth grade. This reflects how students are going beyond their foundational STEM knowledge once they enter second grade.
For students in second through fifth grade, Kid Spark explains,
"Students focus on concepts such as how to make things strong, how to make things move, how to measure, how to use a design and engineering process to solve a challenge, and how to design and program robotic systems. As students progress through the program they gain confidence in their ability to author with technology to solve real-world problems and design new solutions."
Students will be transferring what they learn about STEM inside the classroom into the real world, and that makes summertime STEM activities especially important. Even though the students are exploring educational concepts, they are doing so on their own time and in the real world.
STEM concepts are essential to interacting with the world, but they can be intimidating and overwhelming to some students. By integrating STEM into your second grader's summer, you establish STEM as a familiar and normal part of daily life.
STEM Activities to Prevent Summer Learning Loss
Summer can be full of endless fun for students, but all that fun can negatively impact their educational trajectory. Summer learning loss, also called the "summer slide," is the phenomenon of students forgetting what they learned over the summer break.
It's important to note that summer learning loss is still being studied, with experts unsure of just how much of an effect it can have. With that being said, integrating educational activities (like summer STEM challenges) into your student's summer is a great way to keep your student engaged over the break.
These fun projects help do the work of sustaining students' STEM journey. Consistent exposure to STEM programming is key to closing the opportunity gap for students in STEM.
Count on Kid Spark for Second Grade STEM
STEM kits from Kid Spark Education are perfect for the second grade classroom, providing immersive and engaging experiences for students. Whether students were able to squeeze STEM into their summer or not, they'll be greeted by accessible lessons that delight their minds.
To get started, explore our curriculum library, or contact our team today to learn more about our programs.