It's that time of year again when students are readjusting to classroom life after a summer without semesters, report cards, or passing periods. For middle school students, the "summer slide" can distract them from engaging in classroom activities and discussions or losing interest in school subjects they may have thoroughly enjoyed before.
For educators, it's important to help guide students through this back-to-school transition so they can thrive throughout the entire school year.
In this article, we'll discuss how to help your middle school students reengage with STEM curriculum and different STEM projects you can bring to your classroom to kick off the school year.
Back to School Again:

How to engage middle school students in STEM activities after the "summer slide"
For some students, the subjects of Science, Technology, Engineering, and Mathematics (STEM) can be especially daunting. Add in the pressure of a new school year, new teachers, and new classmates, and any middle schooler is prone to feeling overwhelmed.
That's why it's important to introduce fun and engaging STEM activities that middle schoolers can enjoy at the beginning of the school year. This back-to-school period is a great time to introduce reasonably challenging STEM projects that provide ample opportunities to support students' positive STEM identities.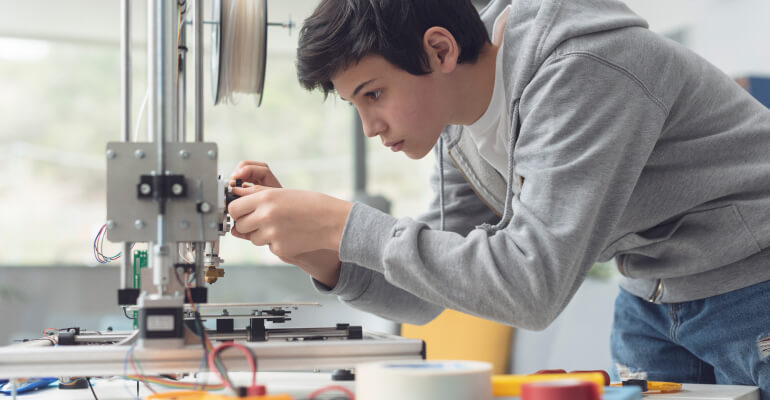 Here are some tips to help support your middle school students in your back-to-school STEM curriculum:
Keep Students at Their Learning Edge
The goal is to create an engaging learning environment for various STEM activities, projects, and challenges that keep middle schoolers at their learning edge. This is the Goldilocks zone, where a project is just challenging enough to be interesting but not too challenging that a student might withdraw.
Encourage Creativity
Before stepping back into rigid lesson plans, use this back-to-school period to let students experiment and apply their own creativity. STEM challenges are a great platform for this (and we have some ideas of STEM challenges for your class below!)
Get Hands-On
The middle school STEM activities you'll find in this article are mostly hands-on. That's because engaging middle schoolers is much easier when the curriculum involves more than rote memorization and reading assignments. Get your students excited about STEM early in the school year with fun, hands-on STEM projects they've never done before.
Pull in the Real World
Middle school students are transitioning back into the classroom from a summer of real-world experiences. What better way to bring them back to school than with STEM activities that connect them to the world outside the classroom?
STEM curriculum at the middle school level includes so many great learning opportunities for students to get involved in real world problem-solving. For example, a group of students from Providence, North Carolina used their school's 3D printer to create a prosthetic leg for their teacher's dog whose leg was recently amputated. Through creative design, prototyping, and engineering, these students were able to practice the fundamentals of STEM outside of a structured step-by-step lesson plan.
Look for opportunities in your school for students to use their STEM skills to solve problems, design solutions, and contribute to their own community.
Meet the Varied Learning Needs of Your Students
Every student learns differently. One of the great things about STEM is that learning activities are accessible to many different learning styles. Introduce a variety of STEM projects to your class to create a balance of learning for all your students.
Back to School STEM Activities for Middle School (Grades 6-8)
In these STEM activities, you'll be guiding your students through a structured process to learn or practice a new STEM concept. Middle school STEM activities are hands-on classroom experiences that combine instruction with activities. These back-to-school STEM activities can be used with or without a complete middle school STEM curriculum:
3D Printing: Students can design and prototype real-world solutions for nearly any kind of problem with your school's 3D printer. Tackle a larger problem as a class such as designing a tablet or device stand, or creating a device that amplifies sound from a phone. Or, break students up into smaller groups to create a replacement part for an everyday item, allowing students to prototype their own solutions.


Basic Robotics: In programs like Kid Spark's middle school STEM curriculum, students learn how to program a robot that can conduct a variety of functions. Middle schoolers tend to enjoy STEM activities where they can see the results of their newfound knowledge immediately, which is why robotics make a great back-to-school STEM activity to get them energized for the school year ahead.


Create a Paper Chromatography: This quick classroom STEM activity explores the science of chromatography, mixtures, and solubility with everyday household items. Approachable with room for creativity,

this chromatography experiment

is a great activity to start the school year.


Building Circuits: Connect STEM to the real world by introducing middle schoolers to the basics of electronic function. With simple circuits, students can learn how to power LED lights or build an operating buzzer.
STEM Challenges for Middle Schoolers Coming Back to School
A STEM challenge is a type of STEM activity that presents students with a problem to solve with their own STEM knowledge, creativity, and problem-solving skills. These often work well as quick exercises in the classroom or as additional activities at the end of a lesson to practice the skills they've just learned.
Build a Straw Rocket: With three simple materials (paper, straws, and tape), students are challenged to create a rocket that will be propelled the farthest. This is a fun STEM challenge that allows students to explore their creative ideas in a hands-on way, while exploring the principles of aerodynamics.


Pasta Bridge: Here, students work in groups to create a bridge out of pasta and glue to meet various design challenges that teach them about load distribution and structural integrity.



Slope Stability Testing:

Explore the effects of erosion on different landscapes with this

slope stability STEM challenge

. Students get to use their creativity to create different landscapes, and collaborate together to learn about erosion.
STEM Projects for Middle Schoolers
STEM projects tend to be more in-depth than STEM activities and challenges. Here, students will likely participate in multi-step processes and phases to investigate a problem and find a solution.
Weather Tracking: As middle schoolers transition back to school, have them track the transitions taking place in the weather, as well. Students can log and analyze the local weather patterns as summer transitions into fall, and bring their reports to class for various classroom activities like

building a solar oven

or

creating lightning in a jar

! You can find even

more meteorology teaching resources

on the Nasa website (

www.nasa.gov

).


Egg Crystals: Introduce chemistry and crystal growth to start the school year by having students

create their own egg geodes

. With some basic household ingredients, students can grow their own colorful crystals and practice the scientific process by recording their growth and progress.



Biodegradable Plastics

: Tie in the real-world issue of sustainability by testing the biodegradability of different types of plastics. Students can see the environmental impact sustained over time in this

middle school level STEM project

.
With these 10 STEM activities, challenges, and projects for your middle school students, your school year can be off to a fantastic start. Each of these activities is designed to be hands-on, engaging, and within that learning edge of a middle schooler's STEM competence.
With a few real-world tie-ins, space for individual creativity, and a variety of lesson styles, you can meet the diverse needs of your middle school students.
Middle School STEM Curriculum by Kid Spark Education
Kid Spark Education offers an all-in-one comprehensive curriculum for grades Pre-K through 8th. When the summer slide is high in middle school students, our engaging hands-on activities keep students at their learning edge and curious to learn more.
Middle schoolers will explore robotics, basic coding, simple and mechanical engineering, and much more.
For educators, you have everything you need for a successful STEM program geared specifically for middle school. In addition to complete lesson plans, design challenges, and curriculum tools, you'll have all the reusable components for every STEM activity. We also provide professional development resources to familiarize yourself with the STEM concepts you'll be teaching in class.
If you're interested in learning more about bringing Kid Spark Education lab kits to your middle school, contact us today.